FundHero partners with Stripe for secure credit card processing. Due to their security, there are some issues that need to be resolved with Stripe and not FundHero. Your deposits are all handled by Stripe, if you would like to change the account your deposits are made to or the organization information you will need to access your Stripe dashboard.
To navigate to your Stripe information:
Navigate to Settings
Click the Stripe tab
Click the Open Stripe button
Click Account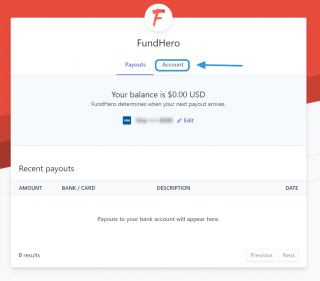 Personal Details: The information for the account holder and any representatives on the account.
Payout Details: The bank account that all donation payouts will be made to.
Settings: Add additional account representatives using the team members section, and edit the account holder. You can also Edit the email or mobile number associated with the Stripe account. This information is displayed on receipts that are sent to donors.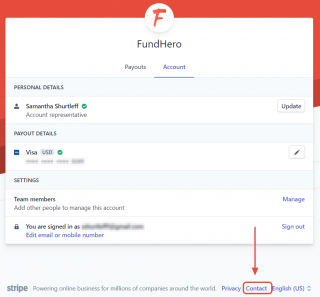 If you need to edit information on this screen and are not able to, you will need to reach out to Stripe.
Along the bottom of the screen select the blue link labeled Contact, you will be redirected to a new page
From the Select a Topic dropdown select "Connect" or "Other"
Let Stripe know what information you need to change and what email address is associated with this Stripe account.